Not all heating systems are the same, and furnace size is one of the most important factors to consider.
When homeowners in Virginia and surrounding areas contact Abel Air Services looking for new furnaces, they can feel overwhelmed by all the factors that affect the best size heating system for their needs.
Fortunately, our expert technicians simplify the process of finding the best furnace size for their heating and budgetary needs.
Abel Air Services is EPA-certified, and all our technicians are NATE-certified, so you feel confident in your choice for a new furnace and HVAC company in Virginia.
Furnace Size & BTUs
Before we delve into factors that affect furnace sizing for homes in Virginia, you should understand the metrics that are used for heating systems.
When it comes to size, each furnace is rated in British thermal units (BTUs). This is a standard measurement of heating capacity.
The amount of energy that is needed to raise the temperature of one pound of water by 1 degree Fahrenheit is equal to one BTU.
In terms of furnaces, you will see ratings such as 100,000 BTUs, 150,000 BTUs, and 200,000 BTUs, to name a few of the furnace size ratings for heat production. When comparing two or more furnaces, those with higher BTU ratings may provide more heat for your home.
So, should you simply choose the highest BTU rating that you can afford? Not necessarily.
Other factors need to be considered when choosing the best furnace for your home.
1. Square Footage
One of the most common mistakes that we see among homeowners in Virginia is that they focus on BTUs and their budgets.
The downside of this approach is that you may buy a furnace that is too large or too small for your home. Installing a furnace that is too small means that you risk having inconsistent temperatures during the winter.
When outdoor temperatures dip, the furnace may not be able to meet the heating demands to keep your family comfortable. Buying a furnace that is too large for your square footage means that you spend more in upfront costs, and you also risk damaging your ductwork and other HVAC components.
2. Basement
Does your home have a basement? This should be considered when buying a new furnace.
If your basement is unfinished, you may want to add heating in the future. Your new furnace should have enough heating capacity to meet your current and future heating needs once you update your basement.
If your basement is finished, that space needs to be included in your square footage calculation, even if you rarely use the space. We can also help you decide if a split system is the best option for your basement area.
3. Insulation
The quality of insulation in your home affects the amount of heat loss during the winter.
Older homes in Virginia and surrounding areas tend to have poor quality insulation, so your furnace will need to have enough capacity to compensate for the heat loss. Newer homes are typically well-insulated, so heat loss is less of a concern.
You will still want to check for heat loss in your attic area before choosing a new furnace.
4. The Age Of Your Home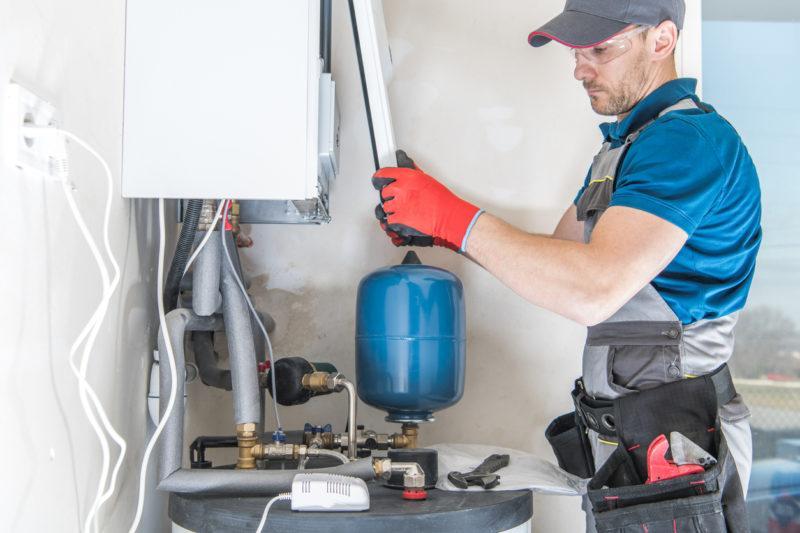 Another consideration for choosing the right furnace size is the age of your home.
Older homes tend to have HVAC systems that are less energy-efficient and beyond the expected lifetimes of the equipment.
Replacing your furnace with a unit that is too large may damage your ductwork and other components and can result in frequent repairs as the old equipment tries to manage the higher capacity of your new furnace.
5. Performance Of Current System
Are you satisfied with the performance of your current heating system? Do you enjoy consistent temperatures during the winter, or do you have cold spots in your home?
Before you buy a new furnace for your home, think about how happy you are with your current furnace. The experts at Abel Air Services can help you find the best furnace size that will reduce energy costs, uneven temperatures, and other issues that you have with your current furnace.
6. Additions To Your Home
Making additions to your home not only expands square footage but also means that heated air from vents needs to travel farther to heat these new areas.
You may be tempted to buy a new furnace that has the same BTU rating as your current system, but you may want to consider a larger unit to compensate for the additional square footage.
This ensures that temperatures are consistent and can save you money on utility costs.
7. Ductwork
Ductwork is the network of metal tunnels that deliver heated air from your furnace to each room of your home.
Over time, seals of the ductwork can break, and the metal may develop corrosion. When you have weak ductwork in your Virginia home, installing a furnace that is too large may cause even more damage, leading to an expensive job to replace the ducts.
Before you choose a new furnace, have an expert from Abel Air Services inspect your ducts to look for signs of trouble and also measure the size of the ducts.
8. Climate Zone
As you look for a new furnace, you may come across information about climate zones.
The U.S. Department of Energy and the U.S. Environmental Protection Agency has defined climate zones for HVAC equipment based on average temperatures in the winter and summer.
Manufacturers are required to ensure that models available within each climate zone produce the necessary heating and cooling capacity.
9. Doors & Windows
Frames around doors and windows are where most heat loss occurs in a home.
We recommend that you adjust the capacity of your new furnace based on the number of doors and windows, as well as the structural integrity of the frames.
You should not have to increase the size of the furnace significantly for heat loss around the doors and frames. Adding just a little more BTU capacity helps to compensate for heat loss in these areas.
10. Energy Efficiency
Once you decide on the best BTU capacity for your new furnace, the next consideration is energy efficiency.
You can find furnaces with the same BTU rating but different energy efficiency ratings. The model with the lower energy efficiency will cost you more each month in utilities.
We recommend that you choose the highest efficiency that you can afford to maximize energy savings for your family.
Experts In New Furnaces For Residential And Commercial Clients
Abel Air Services has served Virginia communities for nearly 20 years. Our company performs heating installation, maintenance and repair, and we offer maintenance agreements.
We also install, maintain and repair cooling systems in Virginia, and we can install and program your smart thermostat.